The Most Beneficial Areas for your next Home Renovation
Home renovations are incredibly valuable. Besides improving your homes appearance, having an up to date home can increase comfort and make your home life much more efficient. In addition, home renovations can greatly improve your life.
If your budget is limited, the best decision is to prioritize what you want to do first. The best areas to begin work on are areas that improve your homes value. Below we have compiled a list of The Most Beneficial Areas for your next Home Renovation
Kitchen and Bathroom
Renovations made to a kitchen or bathroom can be the most expensive, however, they are the ones that pay off the most. A kitchen or bathroom renovation can pay back on average of 75% – 100% of their cost, depending on the extent of renovation performed. Many real estate experts agree that the renovation of a kitchen and/or bathroom are the top two areas that can boost your homes final selling price.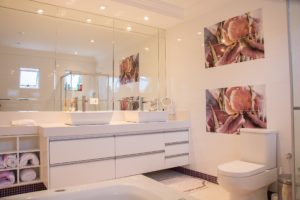 Interior and Exterior Paint
Painting is the most affordable home renovation project you can do and doesn't usually require a professional to take on. Adding a fresh coat of paint to your interior or exterior walls may return 60% – 100% of the cost to your homes value. If you are planning to paint before selling, choose neutral colours and shades over bright colours as it will appeal more to homebuyers.
Roof
Opting to replace your leaky or damaged roof can return approximately 50%-90% of the overall cost, which is a very nice return on investment. Investing in a roof upgrade can increase your homes overall value and also will protect you from water leaks and damage.
Heating System
Investing in a high-efficiency heating system or furnace may drastically increase your homes value. By installing a high-efficiency system you can increase your homes value by 50% – 80% of the cost. Replacement of an old heating system to a high-efficiency model can instantly decrease your overall electrical bills and will make your home noticeably healthier.
Other Home Renovation Options
If these don't seem like options that would work for your home there are many other options available to increase your homes value. Replacing doors and windows, replacing flooring, installing a fireplace, and finishing your basement are all very good options with great returns on investment. If you are looking to receive the most money from your home when you plan on selling, make sure that the work that you do is done by a professional and is very tasteful. The best thing you can do when searching for a renovation professional is to do your research. Look around online for reviews from clients and call to speak to someone to ask questions if you are unsure how to begin are great ways to ensure you get the best price.
About Us
GTA GENERAL CONTRACTORS is an experienced and qualified professionals, who have completed multiple successful construction and renovation projects during our 26 years existence. Our team consists of experienced construction managers and skillful professionals. GTA General Contractors Ltd. has consistently provided The City of Toronto and the GTA with exceptional quality renovations. From residential to commercial, GTA General Contracting Ltd. will assist with all of your renovation needs. GTA General Contracting Ltd. are the go-to experts in all aspects of home or commercial renovation including design services and permit application assistance.