The Top 10 Most Essential Pre-Construction Services
When a company or county outgrows its present facilities and has to develop or remodel to keep up with demand, the prospect of planning a commercial construction project might be intimidating. Many project owners have never worked in commercial construction before, or they lack the time and resources to guarantee that everything is covered and the project stays financially viable. Going it alone is not an option for a huge commercial construction job. As a result, hiring the expert assistance of a construction manager who specializes in pre-construction services for your specific business is a key first step.
What are Pre-Construction Services?
Before the actual building of a commercial facility starts, there is a significant amount of planning that occurs. Pre-construction services are provided as a first stage in project planning and include information on everything from estimates to design to scope – and everything in between. A skilled commercial construction manager will provide a step-by-step plan for completing the project, letting the project owner know what to anticipate and when.
A skilled commercial construction manager will provide a step-by-step plan for completing the project, letting the project owner know what to anticipate and when.
The following are some of the most important pre-construction services to consider for a commercial construction project:
1. Existing condition examination
Many businesses remodel or expand on to existing structures rather than building new ones. Pre-existing issues that may effect design and structural integrity must be acknowledged and accounted for in these circumstances to assist evaluate if a total replacement, substantial renovation, or modest repair is required. If improvements are required, the direction, load calculations, material strength, roof junctures, plumbing, and a variety of other building components must be seamlessly integrated. To give a full bid package and prevent expensive surprises once demolition or construction starts, a thorough investigation must be performed.
2. Building Information Modelling (BIM)
Imagine how much a 3D model of a proposed commercial construction project is worth to a owner if a picture is worth a thousand words. Building information modelling (BIM) is more than just creating a 3D model to see how a project will appear; it also plays an important part in the facility's planning, design, construction, and operating stages. The whole lifespan of a project is simulated using intelligent software to make judgments on structural design, MEP systems, and construction. This collaboration may assist to identify difficulty spots ahead of time and decrease or eliminate difficulties during construction, saving time and money.
3. Analysis and assessment of Feasibility
The design process is one of the most exhilarating aspects of a project, but without sufficient monitoring, possible design faults or issues may go undiscovered. What seems excellent on paper or in a computer model does not necessarily transfer to real structural construction. Proactively recognizing possible constructability difficulties early on reduces the risk of cost overruns and missed deadlines later on.
4. Estimation and Management of Costs
Creating a budget for a commercial construction project is a difficult task that requires the services of a professional estimate. It is their responsibility to evaluate every component of a project, from supplies and labour to equipment, subcontractors, and permits. Following that, they must produce a credible cost estimate for completing the project according to standards.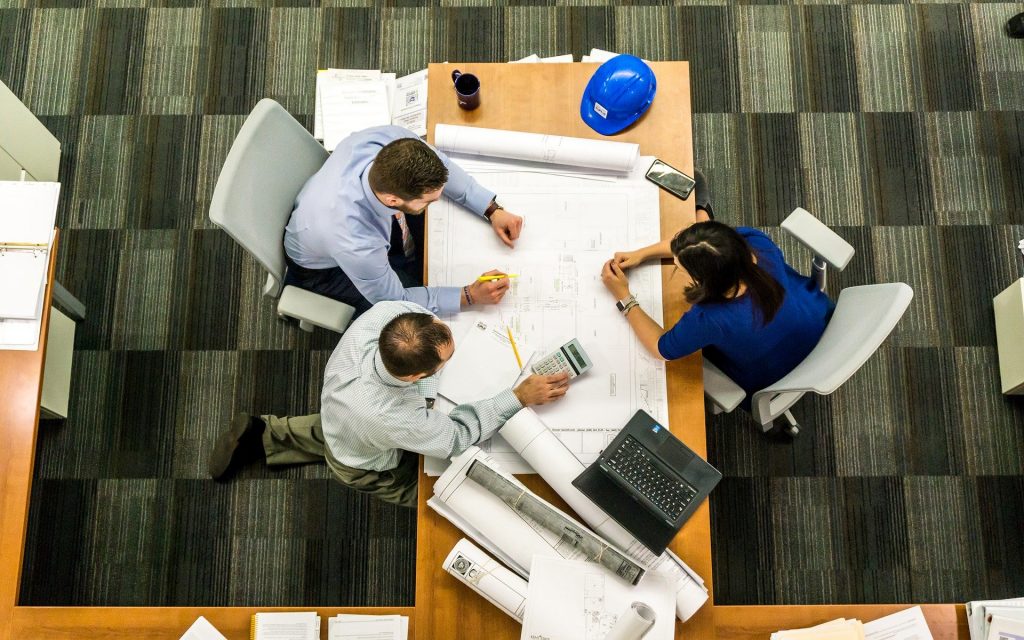 5. Scheduling, Phasing and Operational Concerns

Creating and organizing a construction schedule, as well as all connected operations, entails hundreds of logistical considerations and moving components. Estimating, bid releases, meetings, rules, permits, delivery, storage, subcontractors, inspections, and a variety of other factors must all be taken into consideration. An experienced commercial construction manager may utilize their skills and knowledge to more properly define milestones for coordinating all aspects of construction and completing each phase.
6. Bid Packaging and Coordination
Multiple subcontractors and suppliers will almost certainly be needed to work on your project, and it is critical that they have the appropriate requirements in order to submit accurate bids. Any relevant construction documents are packed together as part of the pre-construction process to establish the scope of work that will be needed.
There should be enough material supplied for potential trade contractors to safely submit bids without having to speculate on any requirements. Prior to procurement, a construction manager will analyze bids and offer a summary to the owner for approval.
7. Analyze cash flow
Because a commercial construction project might last months or even years, guaranteeing financial viability over that period can be overwhelming. A cash flow analysis aids in the development of a payment plan to guarantee that all parties can function with an adequate amount of financing. Various expenses for goods, services, suppliers, and labour will be incurred during the lifespan of a project, and understanding when and how much those costs will be is crucial for project owners, contractors, subcontractors, and supply chains.
8. Purchasing of materials
Obtaining all of the resources required for a commercial project sometimes necessitates the use of a specialized supply chain. Consider a hospital institution, which must meet construction codes and use materials that enhance patient health. Similarly, a correctional facility would need technology and materials to protect the security and safety of prisoners and staff. Procurement for a construction project entails more than simply purchasing materials and commodities to finish a task; it also requires a continual grasp of market pricing in order to choose the most cost-effective supplies. Working with a commercial construction manager who specializes in your business may assist guarantee that the materials and structure of your building match your specific demands while being compliant.
9. Risk administration
The construction sector has inherent hazards that must be managed throughout the design and construction processes. Worker safety and hazard reduction are often the first concerns that people connect with construction, but there are many more that must be addressed along the route. To prevent lawsuits, penalties, or expensive errors, it is vital to ensure that contracts are correctly prepared, that all rules are followed, and that the design, materials, and worksite meet with expectations and standards. Having enough insurance is critical and may be beneficial in certain situations, but never having to depend on it is the aim.
10. Pre-qualification and selection of subcontractors
An essential component of risk management is ensuring that everyone who comes into contact with your project has the necessary expertise and knowledge to accomplish their job to your satisfaction. A trained construction manager who offers pre-construction services will have access to a large network of similarly qualified subcontractors and professional service providers. Their supplier chain will be well scrutinised and will have a good track record of prior performance. It takes time to pre-qualify and create relationships with subcontractors, but it is well worth the effort since it helps maintain your project on schedule and on budget.
Conclusion
As you can see, the success of your commercial construction project is dependent on much more than just brick and mortar. When deciding on a commercial construction manager, be sure to inquire about each of these pre-construction services, as well as any additional they may provide. GTA General Contractors construction professionals are available to walk you through the process and are glad to assist you in taking the following steps.
Looking for more pre-construction insights? Our team is here to help!
We're here to help our people, our clients, and our communities achieve their ambitions. Let us know how we can help, or what you're looking for, and one of our experts will be contact you promptly